Name: Evan Piveral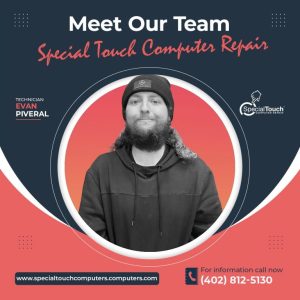 Company Role: Technician & Business to Business Consultant
Favorite quote: "Duly Noted."
What do you do at Special Touch Computer Repair?
I try to help clients solve IT problems before they happen. I find myself spending time with printers, accounting software and email applications primarily.
What are your credentials & past experience, for working in your position?
I have worked in the IT field for over 7 years now. I have seen and experienced a variety of issues that many companies experience. Being able to identify & fix issues quickly and effectively helps reduce down time for our clients. Its always payday, tax day or some important time when the computers decide to act up.
What do you enjoy doing when you are not working?
I enjoy gaming with friends, taking my drone out flying and driving. I really enjoy taking a long drive and exploring new cities and places. Anything to get away from the computer for a bit and enjoying life.
What are 1-2 Bad Habits You See Many Companies Make in Regards to Their IT or Computers?
The management or mismanagement of passwords and crucial information. Having those items handy can save you hours of time. I can't stress this enough. Also, rarely do companies see value in IT or the computers until they break. I always push for preventative maintenance and upkeep however many don't want to invest the time or money until it's a major problem. This can be frustrating when we see a potential issue coming and no one will allow us to do anything about it until its broken.
What are Some of Your Favorite Computer Software or Applications?
I spend a good amount of time exploring Mac OS, iWork and Windows. These may sound basic but most people including myself only use a small percentage of the features in these programs. I enjoy finding new tips and tricks that could save myself & our clients time in the future.
What Tech Tip Do You Have for Anyone Reading This?
Find a password management tool or process for your company and enforce it. Apps like Excel, LastPass, Dash Lane, Key Chain or similar. Some are free, some cost money. Spend the money. Take the time. Do it while you can before you lose access to important accounts or files. Also look into two-factor authentication for extra protection from hackers or digital thieves.
---
 Need help with your companies IT? Give Evan a call to discuss. (402) 812-5130.